40V 20 IN. BRUSHLESS SELF-PROPELLED MOWER
USD 0:00
Efficiency and Ease of Use
7.6/10
Warranty and Support
10.0/10
Ease of finding replacement parts
10.0/10
Pros and Praises from buyers
Self-Propelled
Adjustable Speed
Option to switch from self propelled to push
Height adjustment-One handle adjust all wheels
Light
Quiet
Folding feature allowing for easy storage
Easily Assembled
Great cutting width (20")
Comes with bag and chute
Cons and complaints from buyers
Plastic deck
No ball bearings- wheels
No Sideways discharge option
Battery dies fast in wet or tall grass
Does not mulch wet grass well
This Ryobi is one of the best 20-inch 40V self-propelled mowers on the market today.  It is said to be light, easy to use, has a great cut quality, good cutting width among other things so we were very excited to finally do the Ryobi 20″ 40V self-propelled lawn mower review to see how it compares to the other 40V mowers.
We hoped that it would perform better than the Ryobi 40V push mower that was out for quite some time before this one and that, forgive me for saying, but awful 48 V self-propelled mower they had to recall.
Many may wonder, Is this another waste of hard-earned cash? Well first, let us talk about what you should expect from your self propelled mower.
What should you be looking at when purchasing a good self-propelled electric mower?
Well, these are the factors that must be closely examined to make a good purchase:
Design
Power and Performance
Efficiency and ease of use
Durability
Ease of acquiring replacement parts
Warranty and quality of customer service
Is this mower right for your lawn type?
Overall value for your bucks!
Now, look at what we found out about each area mentioned above and tell me if this mower should be in your garage this mowing season.
C-ELMR Product Review 100028
---
Product: Ryobi 20-inch 40V 5Ah SELF-PROPELLED MOWER #RY40190-Y
Update – New 6Ah model available with longer run time. Linked below as Home Depot
General Market Price: $ 450.00
Warranty: 5 years
Best  Places to Buy Online: Home Depot
C-ELMR Rating:
Company Claims:
---
What's supposed to be in the Box?
Click on the images to see detailed specs and current product prices
(x1) Mower-Ryobi 20″ 40V SELF-Propelled MOWER #RY40190-Y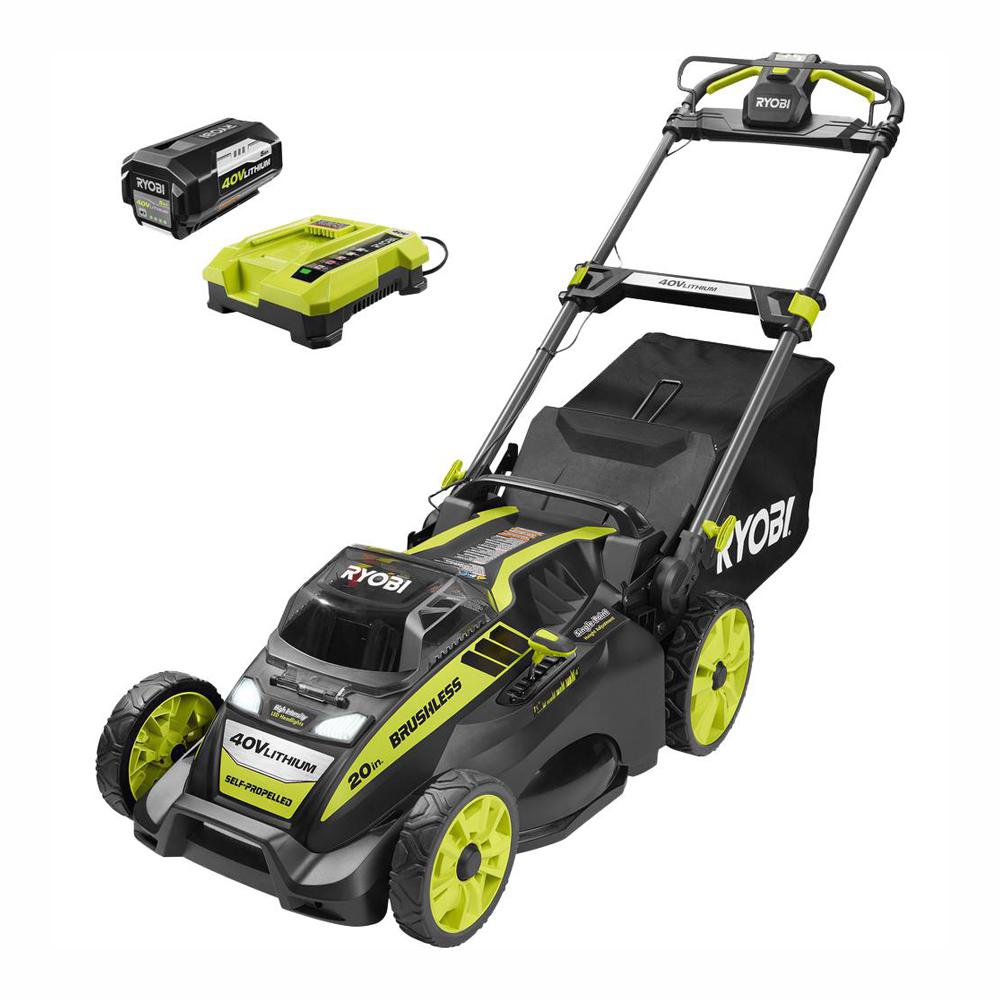 2. (x1)Battery- Ryobi 40V, 5Ah  high capacity lithium-ion battery 
3. (x1) Charger –Ryobi 40V Lithium-ion battery charger
Others:
Extra blade
Grass Catcher Bag
Start Key
Mulch Plug
Operator's Manual
COMPANY CLAIMS…
---
Does the mower add up to what the company said? Take a look at what they said below:
Now take a look at the areas we reviewed below…
Design – Very user friendly but 1 drawback
---
This Ryobi self-propelled mower already has a plus above most other electric mowers because it is self-propelled.  Added to that, it was designed with comfort in mind. It is easy to use and changing wearable parts are standard. It is a big improvement from the previous Ryobi 40V push mower. While I like most aspects of the design, it had a few negatives. One being, for 1/2 acre – large lawn owners, you might have to get an extra battery to eliminate charging time between mowing sessions.
Take a look at the feedback below:
The Good – Positive customer feedback:

The height of the mower handle can be easily adjusted to match that of the user. You'll know how important this is when you've had a backache from bending and pushing a heavy mower.
The mower has a very simple push to start mechanism, conveniently placed as shown below:
With a brushless motor, the Ryobi 20″ 40V Self Propelled Mower allows users to use its battery power effectively without the mower overheating.
Rear-wheel drive feature gives increased control for easily mowing in straight lines. It also makes it more effective to mow over slopes/hills.
The folding option (as shown below) allows you to save space in the over-stacked garage.
Adjusting the mower height is simple; you only need to adjust one lever to adjust all 4 wheel heights.
Comes with a 7 level cutting height adjustment from 1 1/2 inches to 3 3/4 inches.
You get great cutting width – 20 inches
It is a lot lighter than most electric lawn mowers at 44.7 lbs
Has lights for mowing at night.
Batteries and chargers can be used interchangeably for all Ryobi 40V Lithium-ion battery-powered products.
The bad:
The plastic deck will get damaged by the blade overtime if you push up against trees at the side of the mower. We all do that sometimes to cut down on the amount of edging we need to do but be aware when using this mower!
Need an extra battery if you are mowing more than 1/3 acre with thick or tall grass.
No Sideways discharge option
No ball bearings so spraying WD-40  around wheels now and then wouldn't hurt.
No option to turn off the lights.
Power  
---
This mower is quite powerful for the price. With the 40V 5Ah battery, you cut to maintain your 1/3 acre lawn without any problems if you keep your grass at a moderate height. You will get approximately 30 minutes of run time from your mower before it needs a recharge.
Performance-What should you expect from this Ryobi 40 Volts Self-propelled Lawn Mower?
---
The Good:

Great quality cut. You get an even finish without patches of grass left behind for you to go over.
You can power through tall, thick, wet grass without compromising your cut quality but you have to go slower. If you use maximum speed, your grass will be massacred.
Rear-wheel drive makes mowing over slopes a breeze.
Works quietly, which is amazing.
You will, however, have some problems…
Not excellent at mulching
Your battery will die faster when cutting very tall, thick grass.
You can only fill half the bag before it gets bogged down and needs emptying.
Efficiency and ease of use
---

As mentioned before, the mower has a very conveniently placed, simple push to start mechanism.
The height of the handle can be adjusted to match that of the user so your back will not ache to bend over to mow for half an hour.
Changing cutting heights is made simple with a single handle adjuster instead of going through the stress of adjusting twice or even worse, all four wheels individually.
Changing speed is made simple with the speed control within the grasp of your thumbs while holding the self-propulsion handle so you do not have to remove your hand from the self-propulsion handles to change speed.
Another efficient feature is that the mower powers up when it senses thick grass and cuts down to conserve battery in more manageable areas.
The bad
The battery takes up to three hours to charge. So unless you are the type to take three-hour breaks between mowing sessions, if you have a lawn bigger than 1/4 – 1/3 acres, you might want to get a second battery to avoid this annoying wait time.
Durability
---
A plastic deck is usually not my go-to choice. I would much prefer a steel deck but they come with the disadvantage of being heavy.
This lightweight plastic material has not gotten any complaints and seems to be passing the test of time even when stones are thrown against it during mowing. So this feature should not be a problem.
Otherwise, the mower seems very sturdy and the wheels and battery are of good quality.  Yes, I had to put BATTERY bold letters. I don't know if you know this, but this company had some major battery issues with the 48 V self-propelled mower that they had on the market before recalling it. This battery actually comes with the extra feature of cooling down between recharges so it is less likely to get damaged. Good one Ryobi. We see you out there trying to satisfy us and it's working.
Ease of acquiring replacement parts
---
All available online on Amazon, eBay, and Home Depot. Call the company if you need any additional parts.
Warranty
---
You will get five (5) years warranty on the mower if you are using it for regular home purposes. This is a pretty good warranty compared to the other mowers out there.
What most people don't know is that you will only get 90 days warranty if you are using it for commercial purposes.
For the battery, you get a three (3) years warranty which again is very good.
Comprehensive Video Review
---
Final Thoughts on Ryobi 20″ 40 V 5Ah  Self Propelled Mower – Value for your bucks?
---
This is definitely one of the better mowers out there. Ryobi did a great job on this one for the price it is being sold. A few hiccups here and there but nothing that would hamper your experience too much.
Where to buy Ryobi  40V Electric Self Propelled Mower
---
Pick up yours or buy it online at Home Depot from the link provided below.
Click Here to buy or view online –> Ryobi 40V Electric Self-Propelled Mower (Home Depot Link)
Let me know what your experience is with your new mower! 
This Mower is Recommended For:
---
This mower is not for you if:
You desire a sideways discharge option. This mower does not have that option
You have a lawn bigger than 1/3 acres and you do not plan on buying an extra battery and you do not intend to take a 3 hr break between charges.
You have a 1/4 –  1/3 acre lawn that you do not mow often, with tall, thick, and often wet grass.  If so, you will need an extra battery to get through the entire lawn uninterrupted by a dead battery.
---
This Ryobi 40V 5Ah mower is for you if:

You have 1/3 acres of lawn or less (or you should purchase an extra battery)
You have other Ryobi 40 V tools, always a good idea to stick with the line if it's a good one. That way you can use the batteries interchangeably. Very economical.
You have problems with your back and cannot manage to push around a heavy mower.
You have to lift your mower to the storage area and you have problems lifting a heavy load, this mower for you. Its plastic deck makes it very light compared to other steel deck mowers.
You hate the noise of the usual gas mower, this is a relatively silent alternative. In fact, it sounds more like a loud toy car, definitely not like the usual community nuisance.
If you mow at nights, the lights come in very handy
You want to "Go Green" and leave the smelly gas mower behind, this is an Eco-friendly option.
These are the self-propelled mowers we recommend for larger lawns:
(Click to view Reviews)